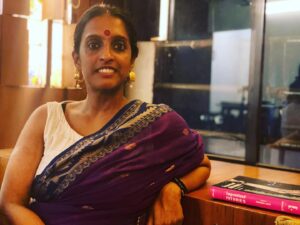 Ranjana Dave is an independent artist and writer. Her work spans performance practice, writing, curation, research and pedagogy.
She was programmes director at Gati Dance Forum, where she initiated an annual journal, Indent. She co-edited Indent's most recent edition, Last-ing with Parvathi Ramanathan.
She has worked on developing a curriculum for a master's programme in dance practice with her colleagues at Gati, and has taught on the MA Performance Practice (Dance) programme at Ambedkar University Delhi, the first of its kind in South Asia. She occasionally teaches at Ashoka University, and has previously taught at KRVIA, Mumbai.
Ranjana's writing has appeared in Firstpost, The Hindu, Scroll, Time Out, NCPA Onstage, Asian Age, Indian Express, and Tanz, among other publications. She curated and annotated an online archive of dance video at Pad.ma (Public Access Digital Media Archive). She was the co-founder of Dance Dialogues, a Mumbai-based initiative that connected the local dance community to provocative and diverse ideas, individuals and institutions. She has curated conferences for the IGNITE! Dance Festival (2015 and 2016), and Indent (2018 and 2019), and was the dance curator at Serendipity Arts Festival (2018).
Ranjana is the winner of the Art Writers' Award 2022, presented by Swiss Arts Council Pro Helvetia in collaboration with TAKE on Art. She is one of eight artists in the PICA Interdisciplinary Lab (2021-23). She was an ArThink South Asia Fellow in 2013.
She is the editor of Improvised Futures: Encountering the Body in Performance, the second in a six-part book series on India since the 1990s, a collaborative bilingual project between Tulika Books, New Delhi and West Heavens, Shanghai.
Ranjana trained in Odissi and is a certified yoga teacher. Her artistic practice, emerging from her movement training and her research and writing, unfolds at the intersection of text and movement. She studied journalism at St. Xavier's College, Mumbai and completed an MA at the School of Arts and Aesthetics, Jawaharlal Nehru University.
Ranjana loves socks, the more toes the better, procrasti-bakes (baking to procrastinate), and talks to robots.